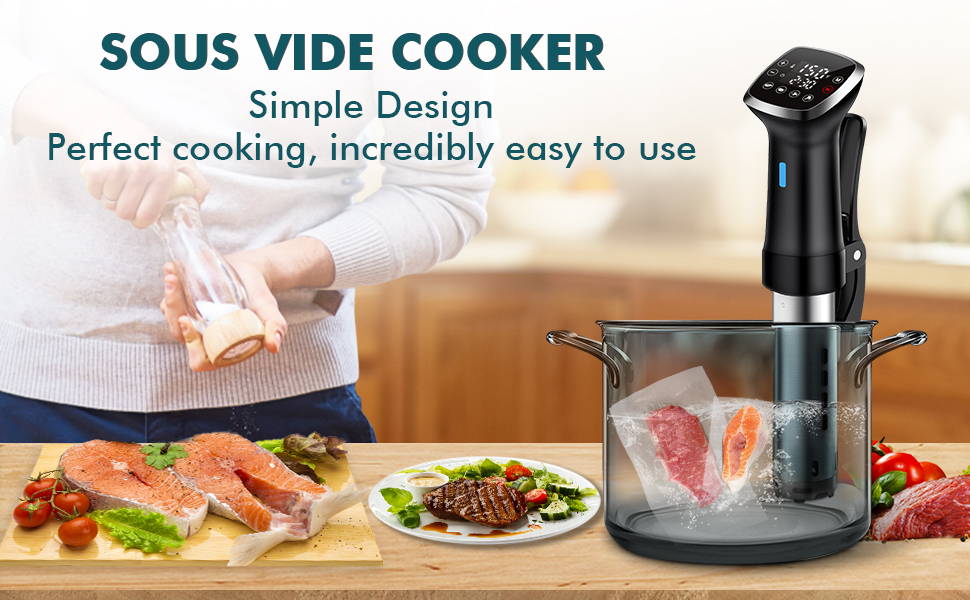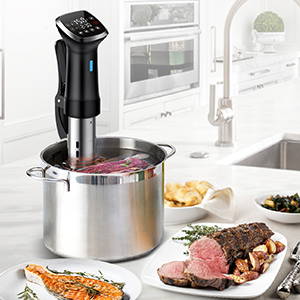 Sous vide cooking is an innovative cooking technique. The food is vacuum-sealed and an immersion circulator keeps the water at a precise temperature. Therefore the food will be slow-cooked at a low temperature. Never worry about over or under-cooking. Sous vide can also allow you to achieve tender results with relatively little moisture loss.

Compare to traditional cooking methods, sous vide is preserves nutrients, vitamins and get rid of frequently checking in the kitchen. No need to poking with a thermometer, or jabbing with your finger.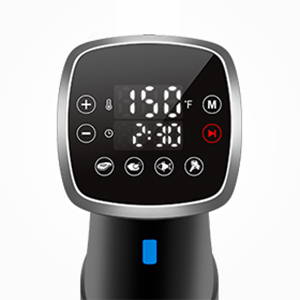 4 Preset Cooking Funtions
Each preset has an adjustable time and temperature so you can customize everything to fit your air fried recipes.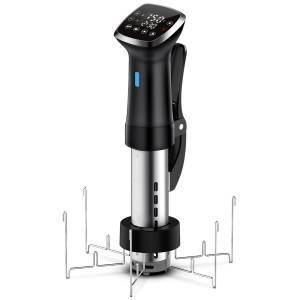 Have two different way to set up the sous vide cooker.
IPX7 Waterproof Certified
Being IPX7 waterproof certified,Bonsenkitchen sous vide cooker ensures safe operation and much longer service

The sous vide stick can be mounted on a port or container by supplied fixing clip.
Steak Rare
1. Generously season the steak with salt and pepper.And Seal it with vacuum sealer bag.
2. Set the "Beef" Mode.
3. Place the bag in the water bath.
4. Fry the steak and sear until well-browned, about 30 seconds per side.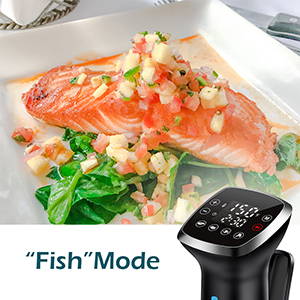 Sous Vide Fish
1. Place carrots, butter, sugar, and 1/2 teaspoon kosher salt in a vacuum bag or ziplock bag and seal.
2. Package with a little oil or butter, just enough to keep the carrots from sticking to each other.
3. Set the "Chicken" Mode and place the bag in the water bath
4. Slice and season.Leave whole or cut into desired shapes, and season.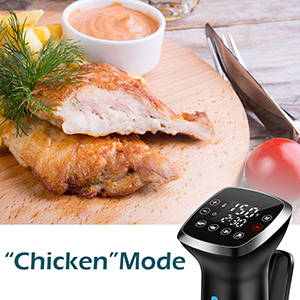 Sous Vide Chicken Breast
1. Brush your boneless skinless chicken breasts with a little olive oil.
2. Season them liberally with salt and pepper.Along with fresh herbs, smashed garlic, or whatever other seasoning you like, place the chicken breasts in a gallon plastic food storage bag and seal it halfway or vacuum seal.
3. Set the "Chicken" Mode and place the bag in the water bath
4. Pat the chicken breasts very dry. Heat a skillet over medium-high heat. When hot, add butter and, when foaming, add chicken breasts. Cook 1 minute per side, or until nicely browned. Transfer to your serving plate and enjoy!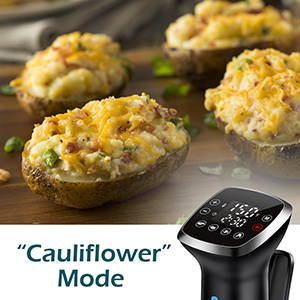 Sous Vide Butter-Poached Potatoes
1. Halve or quarter them into smaller pieces about 1-inch (or less) in size.
2. Add the potatoes, chives, salt, black pepper, and oil to a gallon-size zip-top freezer bag. Toss together in the bag to distribute the ingredients.
Add 3 or 4 heavy soup spoons to the bag—potatoes have a tendency to float, and the spoons will help weigh the bag down.
3. Set the "Cauliflower"Mode and place the bag in the water bath
4. Remove from the water, and turn off the circulator. Transfer to a serving platter and sprinkle some additional fresh chopped herbs and sea salt over the top, if desired. You can also drizzle the cooking oil over the plated potatoes.